#251:Murder Cheese & The Coin Boys!
3 months ago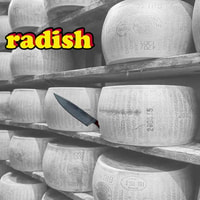 If you are related to the 74 year-old Italian man who was crushed to death by parmesan cheese, you might want to skip this one.
We got another episode of Radish coming in hot over the plate at ya!
This week Tyler revisited Omega Mart in Las Vegas, Sean gives his songs of the summer countdown, and Will recounts the ballad of the Coin Boys.
Truly something for everyone except, and I cannot stress that enough, the family of that Italian man. I'm truly sorry.
Follow us on twitter or whatever its called @radishpod and watch the stream on our youtube at youtube.com/@radishpod