#252:After Work TV & One Piece Live Action!
3 months ago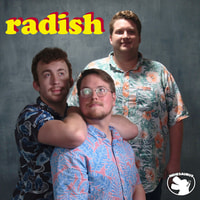 THis episode's all about Cybertruck Dunkin' & Turtle Suckin'. Also, we draw & quarter Sean live on this episode, Radish is the first podcast to ever do this.
Also also, is Adult Swim doing nostalgia right? Did Netflix's One Piece break the live action curse? What is a micron? Answer us our riddles three, and we will give a prize unto thee.
Episode Topics- One Piece Live Action, Checkered Past, 2005 Cartoon Network, Kinokuniya, Cybertrucks, Frasier Reboot, Oppenheimer, Jujutsu Kaisen